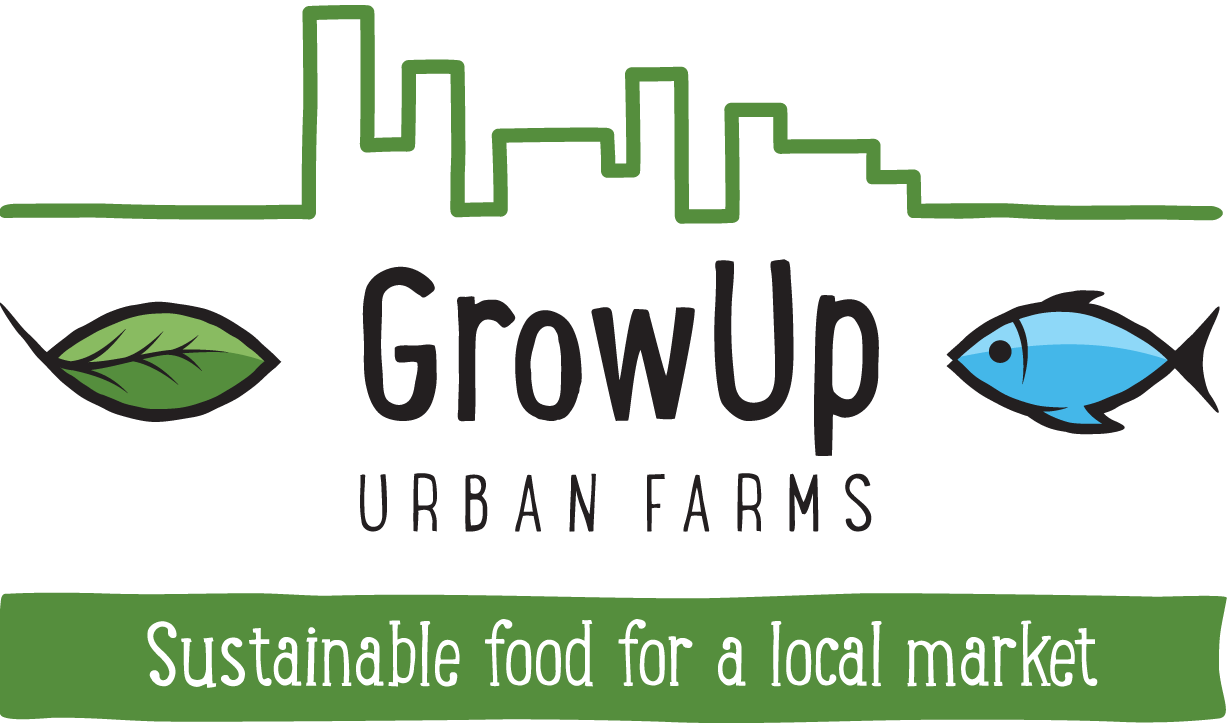 DISRUPTOR 10: GrowUp Urban Farms
The farm where crops climb the walls
The Virgin Media Business Disruptors to Watch 10 list, in conjunction with Fast Track 100, is back.
In a climate of 'disrupt or be disrupted', we're determined to help businesses triumph, and our definitive round-up of the UK's 10 most disruptive companies provides much-needed insight into how it's done.
We've spoken to the movers and shakers in each of the 10 firms to find out what makes them tick. And in this instalment, we learn that crowdfunding can help get a disruptive business off the ground – literally in this case. Introducing sustainable food company, GrowUp Urban Farms….
It's all about aquaponics at disruptive food firm, GrowUp Urban Farms.
In a nutshell, the futuristic agricultural technique uses fish farm waste to feed plants, such as lettuce, in a unique vertical hydroponic environment.
That's right: the plants are literally grown outwards from the walls.
It's the first UK company of its type, and Kate Hofman, co-founder and CEO, acknowledges just how complex it is to keep running:
"With aquaponics, we take the waste water from a fish farm and use it as the nutrient base for our plants.
"Inside that system we control the whole environment. We control the irrigation, the lighting, humidity and temperature. We create the optimum growing conditions for our salads, so they can be harvested to order and sent out directly to our customers.
Grown locally all year round
For Kate, aquaponics offers a way to disrupt not only agriculture, but to improve inefficient food production methods.
"GrowUp Urban Farms is trying to address some of the fundamental challenges in our agricultural system," she explains, "We believe that by growing the right kind of food using the right technology, closer to consumers, we can do so in a more efficient way. This cuts down on waste and produces a really high-quality product that's grown locally, all year round."
GrowUp Urban Farms began four years ago in an unlikely location: An East London warehouse. The 6,000-square-foot unit housed the firm's first crop farm, which proved that the concept of growing food in cities close to consumers can be a viable option depending on the methods you use.
Kate says, "We established GrowUp Urban Farms because we were really interested in the potential for this type of controlled environment farming technology to be used at commercial scale; it can have a real impact on the way we feed people.
"There wasn't anyone at the time doing it in the UK, and we really wanted to take that technology and show that it was possible to grow food and start to change what was available on the market for people in England."
It's fighting talk from a small firm that already has supplied Whole Foods and the Rosa's Thai Café chain. Indeed, GrowUp Urban Farms has its sights set on an even larger share of a market forecast, aiming to be worth £2.1bn by 2019.
Connecting with brand ambassadors
Since its launch with Kickstarter crowdfunding of £16,500, GrowUp has never shied away from doing things differently, with Kate a big fan of the unconventional funding sources available to today's entrepreneurs:
"I think Crowdfunding is a really interesting opportunity. It's great that there are more diverse sources of funding for businesses. When we did our Kickstarter campaign, that was rewards-based crowdfunding and I think that's quite different from doing equity-based crowdfunding.
"It's a huge opportunity for businesses to tell their story and also to hopefully connect with people who are not just investing in your business, but will be your customers and brand ambassadors. I really like the way it gives people that opportunity."
Efficient and sustainable
GrowUp Urban Farms reckon that their next farm will be ten times the size of their first commercial prototype– and a lot of that is down to the technical advances that have gotten them this far.
"Of course, technology has played a big role in our business. We work with technology partners who are leaders in their field and what they do. We take that technology and integrate it into our controlled growing environment. For us it's really important that we continually improve our operations to make us more efficient and sustainable."
As GrowUp prepares for its next phase of expansion, what advice does Kate have for other would-be disruptors?
"Starting a business can be hard and starting an impact business, where you are trying to change something to have more positive impact, is even harder. It's really important to have a strong team around you to have a clear vision of what you are trying to achieve and to build up your resilience inside your company. That means when things get tough you'll be able to weather the storm and carry on."
Good luck to Kate, co-founder Tom Webster and the rest of the GrowUp Urban Farms team as they continue their disruptive journey.
Get Insights & Customer Stories from Virgin Media Business
Accelerate your business growth
with information, advice and more