Help and support with the Engage platform
Welcome to Engage. It's great to have the opportunity to work with you.

The world is becoming more complex. You need to extend the reach of your network, control costs and ensure the security of your business — all while adopting new ways of working.

We're not claiming that solving such complexities is simple. But now we're working together we hope that Engage makes it easier and faster for you to get what you need. Then you can use the solutions you choose to turn those everyday complexities into opportunities.
The Engage portal can be accessed from the following URL:
www.virginmediabusiness.co.uk/engage

Supported browser versions –

Chrome v31 and above
Firefox v25 and above
IE8 and above
Safari (Mac) v6 and above

A shorter, Quick Reference User Guide has been put together too. This can be located in the 'My Documents' section of the Engage Portal, alternatively click on the following link:
Quick Reference Guide

Once you have launched the site, please follow the on-screen instructions.
At first login, you'll be asked several questions to personalise and secure your account.

You should have received an email from us containing a username, and password. If not, please contact your system administrator.
Enter the login details provided – as indicated below – then click the "Login" button. Please note: your username and password are case-sensitive.

By logging into and / or by using the Engage portal you accept and agree to be bound by the Engage Terms of Use (a link to the related document can be found near the bottom of the page).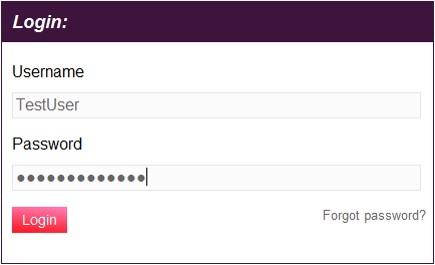 Initial Login Password Reset

Once you've logged in, you'll be prompted to reset your password. This is your chance to create a personal password that's a little easier to remember.

Password format requirements are as follows:
Minimum of eight characters
At least one digit
One upper case letter
One lower case letter
One of the following special characters "@ # $ %"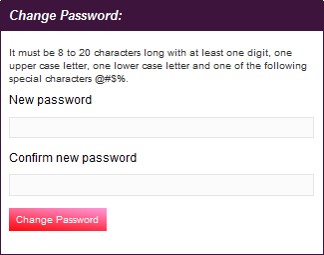 We would like you to feel confident that any information you share with us will be kept safe. We ask you to apply some personal security to your account, so that only you, and additional users requested by you, can access your account.

Next you'll be asked to set your security questions and answers. Simply select your options from the drop-down menus and create your personal answers.

You'll then be asked to provide a unique question and answer of your own, keeping things extra secure.

Make sure you store your answers somewhere safe, as they'll be used to confirm your identity if you need to reset your password in the future.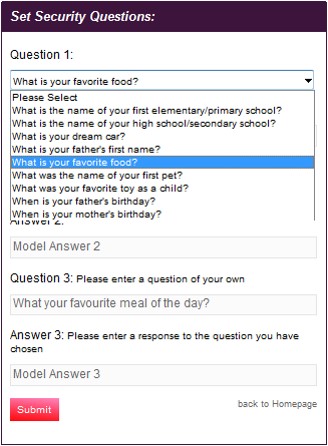 You can update your security questions at any time by clicking on My Profile and then select change my Security Questions.
Once you've set your security questions, you'll be directed to the Engage homepage. A message will display, confirming that your security question changes are complete.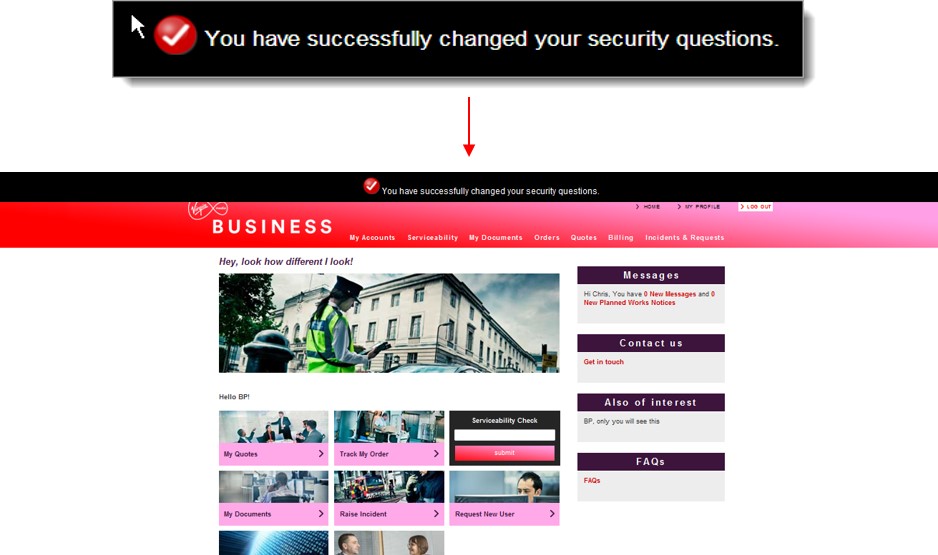 How to change your password
To change your password, select the change password option under the My Account tab. You'll now have a view on-screen similar to the box displayed below. Enter your new password and then re-enter for confirmation.

Remember! Password format requirements are as follows, minimum of eight characters, at least one digit, one upper case letter, one lower case letter and one of the following special characters "@ # $ %".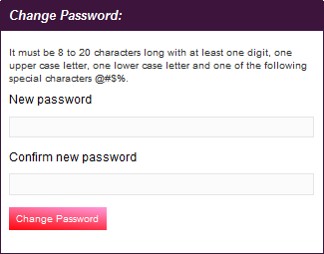 Now click "Change Password" to submit change. You'll be redirected to the homepage, where you'll receive a confirmation message at the top of the page advising password change has been successful.

Forgot your password?
If you can't recall your password then at the homepage there is the option to request a reset.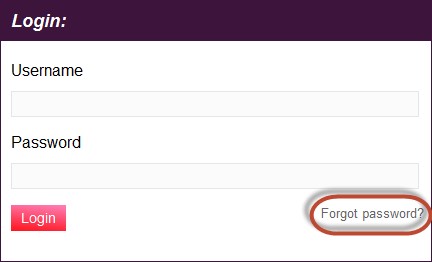 Then enter your username and you'll be emailed a link to reset your password.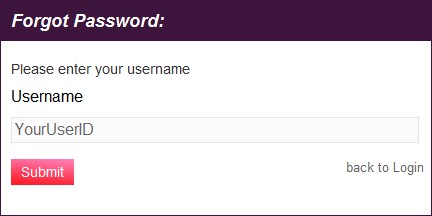 The email will take you to a page to answer your security questions and then you'll be able to enter a new password.

Account locked?

After three failed attempts your account will be locked out. To gain access again, please contact your Engage administrator.

Where possible please request a password reset on a second failed attempt to login. Otherwise, your account will lock on a third failed attempt.