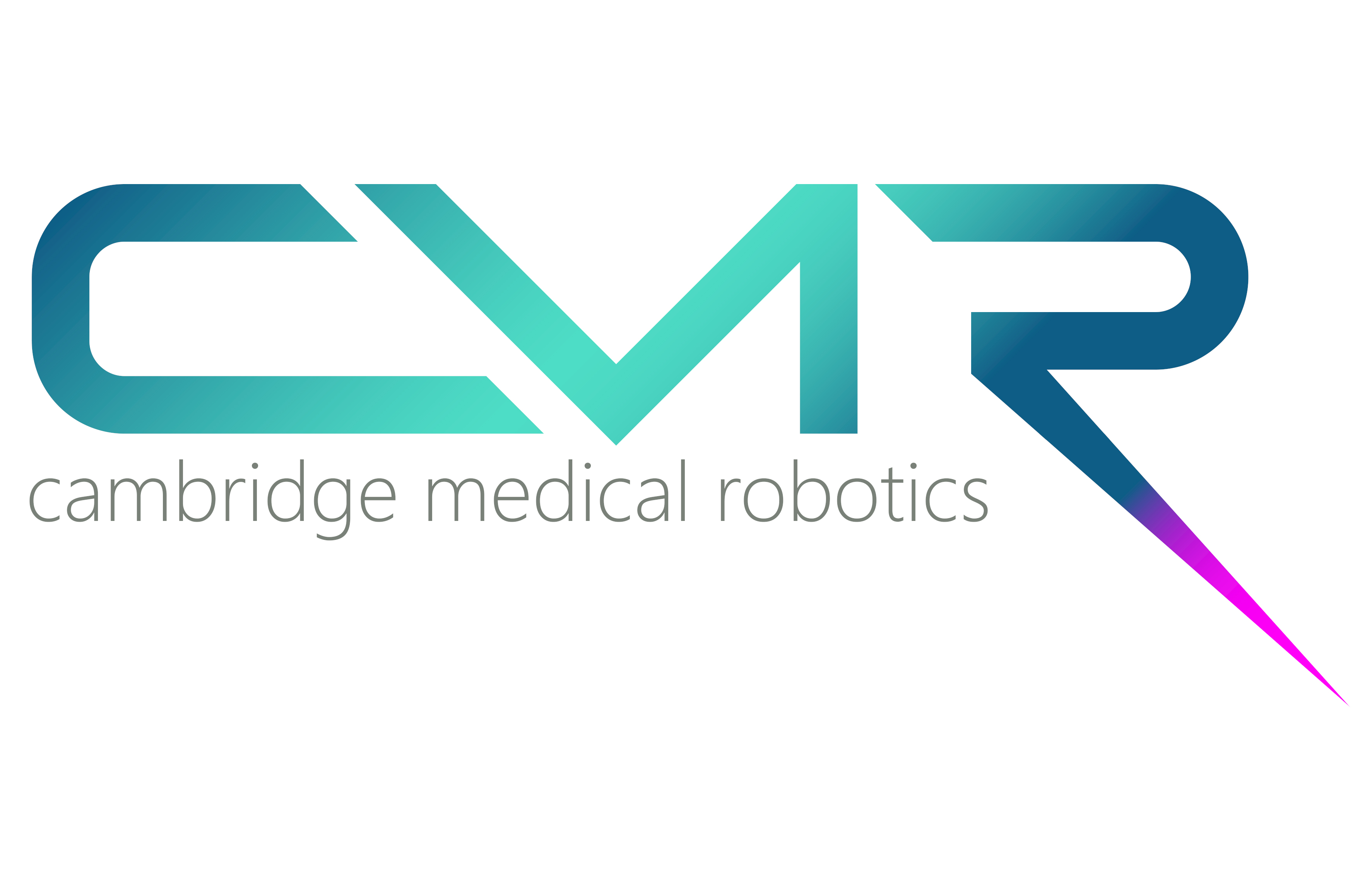 DISRUPTOR 10: Cambridge
Medical Robotics
The rise of the robot surgeon
The Virgin Media Business Disruptors to Watch 10 list, in conjunction with Fast Track 100, is back.
In a climate of 'disrupt or be disrupted', we're determined to help businesses triumph, and our leading-edge research and round-up of 10 of the UK's most disruptive companies provides much-needed insight into how it's done.
We've spoken to the movers and shakers in our 10 finalists to find out what makes them tick. And in this instalment, we learn that while technology is important, so too is the staff whose creativity makes things happen. Step up Cambridge Medical Robotics…

Borrowing from cutting edge space age and mobile phone technology, a British firm has created a robot that will dramatically impact the operating theatre.
Launched in 2014 and with its first robot, Versius, due out next year, Cambridge Medical Robots is hoping to cash in on the rise in demand for surgery with little or no downtime.
Head of Marketing, Patrick Pordage, says, "We are designing the next generation of surgical robot because surgery is about to undergo a revolution. Open surgery brings huge drawbacks for many procedures and we believe it is time people had viable alternatives. The solution is through the use of robotic surgery and tiny incisions made on the body."
No competition for 15 years
Surprisingly, there haven't been any competitors in this area of surgery, and the market leader can be prohibitively expensive. This led the founders of Cambridge Medical Robotics to identify a gap in the market.
Patrick says, "The business started four years ago when we spotted a need. There is a robot on the market that has been there for over 15 years, but it hasn't had a competitor in all that time. For many hospitals, it has been just too expensive to buy and use. We believe 8 million people deserve better treatment each year, so we designed a robot specifically to meet that need."
Every year 8 million people undergo open surgery, and the global market is expected to grow from £3.7bn in 2016 to £9.8bn in 2021. Unsurprisingly, developing a machine capable of disrupting the sector doesn't come cheap, but Patrick believes Versius has arrived at the right time.
"The competition's robot can cost circa £1.5 - 2m," he says. "The instruments that go inside the body then add an additional couple of thousand dollars per procedure. That is why few hospitals can afford to use it. We've taken gears used in the space industry, and built on the advantages of what has happened over the past 20 years in terms of the miniaturisation of silicon, as used in the mobile phone industry. We have employed these technologies to devise a very different system and style of robot, that will create a see change in the way the world thinks about surgery."
Accessible, faster, affordable
The alleged advantages of Versius are many – not least the fact it makes keyhole surgery accessible to millions, while also making procedures faster and more affordable.
"It changes the landscape of surgery," says Patrick. "The name Versius is a play on the fact that it is versatile and can operate from chest to pelvis, which is something quite new. Rather than go into hospital as, say, a man having his prostate removed and having to spend six days there, surgical robots mean you can be out in a day. Pain is reduced, there is less of a need for prescription drugs and your chance of getting a secondary infection or complication is massively reduced. Reducing pain, scars, the risk of complications and the need for prescription drugs is a huge win for everyone."
Naturally, technology is extremely important to Cambridge Medical Robotics, but Patrick maintains the people behind the business are equally important.
"Technology is at the heart of everything. We're in Cambridge, the technology hub of Europe. But I also think that technology is only half of the story. The people are the other half. This is a company staffed with people genuinely passionate to get millions of people better surgery every year. We have a very clear focus on achieving that.
"At the moment we are seeking regulatory approval and we have some truly world-class people making sure we are doing everything we need to in order to satisfy the regulator's needs."
As for advice for other fledgling disruptors, Patrick keeps things short and sweet.
"Focus," he says, with all the authority of someone whose innovative modular robot seems likely to disrupt surgery in the years to come.
We wish Patrick and the rest of the Cambridge Medical Robotics team all the best as they continue their disruptive journey.
Get Insights & Customer Stories from Virgin Media Business
Accelerate your business growth
with information, advice and more