VOOM PITCH FROM VIRGIN MEDIA BUSINESS RETURNS BIGGER AND BETTER THAN EVER
The UK & Ireland's biggest pitching competition, Voom Pitch 2018, opens for entries with £1M prize pot

New partners include Crowdcube, G by Grant Thornton, PayPal, PwC and Virgin Money

Finalists will get to pitch live to Sir Richard Branson and a panel of business superstars on 23 May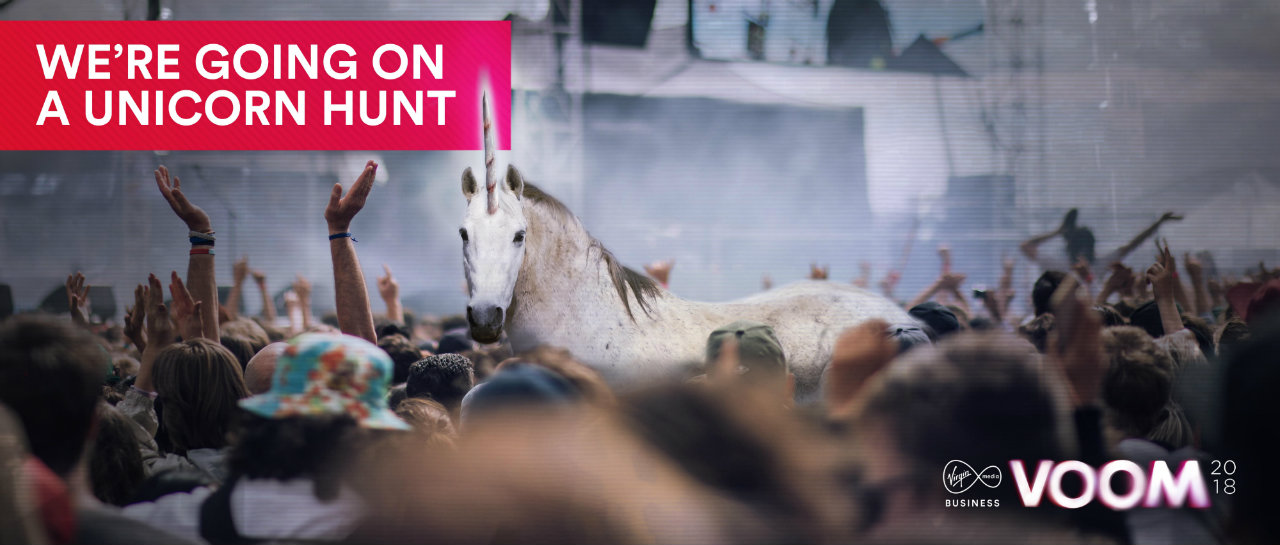 Virgin Media Business today launches the search to identify the most innovative and exciting small and medium sized businesses in the UK and Ireland as Voom Pitch 2018 opens for entries.
Voom Pitch 2018 is on track to be bigger and better than ever. Global brands, including PayPal and PwC, have come on board and will be bringing their expertise to find and support the UK and Ireland's most talented up and coming businesses.
New Partners in 2018:
Crowdcube, G by Grant Thornton, PayPal, PwC, Virgin Money
Existing Partners:
Crowdfunder.co.uk, ICAEW, JCDecaux, Virgin StartUp, Virgin Unite
This year the competition will open up to more established small and medium sized businesses as well as to start-ups, with two entry categories: Scale & Grow and Spark & Start-up. As well as the cash prize, entrants can win an out of home advertising campaign from JCDecaux and a first-stage funding programme from G by Grant Thornton. Additional awards and prizes from Voom Pitch 2018 partners, that will help winning businesses take things to the next level, will be unveiled shortly.
Peter Kelly, Managing Director, Virgin Media Business, said: "It is so inspiring to see big business coming together for Voom Pitch 2018 to find and support small
businesses, both fledgling and more established, in order to help them really take off."
"Our new partners will enable us to expand the reach of the competition and provide the right tools to really take the winning businesses up a gear, whether that be through crowdfunding, advertising campaigns, export opportunities, finance and accounting, digital security or mentoring." he added.
Existing partner Crowdfunder.co.uk – the UK's number 1 crowdfunding platform - will again provide entrants with the option to run a crowdfunding campaign alongside their pitch entry. In 2016 Voom entrants raised over £4million in crowdfunding during the public voting process.
Voom Finalists will get to pitch their ideas to Richard Branson at the Voom Pitch Grand Final in London on 23rd May and win a slice of a prize fund worth over £1million.
Entrants will first have to get through online public voting and semi-final heats, to be held in Manchester, where they will pitch to senior business figures.
"In 2017 we took Voom on tour across the UK & Ireland and shone a spotlight on many local business heroes," said Richard Branson. "This year the national competition is back, bigger and better than ever. I can't wait to help find this year's Voom Pitch 2018 winners and help them reach their full potential."
Since launching seven years ago, Voom has awarded over £2 million in prizes and supported hundreds of businesses including CauliRice, MacRebur, Fourex, Biobean, What a Melon and Approved Foods to go on to great success. Previous winners have benefited from increased public awareness and new connections, partnerships and collaborations they've built through the competition.
Businesses can enter Voom Pitch 2018 at www.virginmediabusiness.co.uk/voom

For press enquiries please contact:
luke.stallard@virginmedia.co.uk
carol.barnes@virginmedia.co.uk
Press Office: +44 (0333 000 2900
Notes to Editors
VOOM ALUMNI INCLUDE:
MacRebur
MacRebur, the plastic road company, won the Voom Start-up award in 2016. The firm takes waste plastic that would go into landfill and converts it to make a stronger and longer lasting asphalt road. As part of their prize, MacRebur won a two-week outdoor marketing campaign with outdoor advertising experts JCDecaux which, along with significant media coverage as a Voom winner, helped them raise £1.3million early in 2017 to support their next stage of business growth. The firm is valued at over £7million and is working with international asphalt producers, national and independent asphalt producers.
Caulirice (now Fullgreen)
Founded by Gem Misa and James Harris, Caulirice reached the Voom final in 2015. Since then, the company has expanded its range and its vegetable rice products are stocked across the UK including at Tesco, Sainsbury's, ASDA, Morrisons and Waitrose stores. The company now exports its products to the US where they are stocked in some of the country's biggest grocery stores, as well as at Amazon.com.
Approved Food
Approved Food appeared on the BBC's Dragons' Den, where Dan Cluderay pitched to the dragons but walked away with nothing. But in 2015, Approved Food were shortlisted in the Pitch to Rich (precursor to Voom) Grow category, where they were runners-up, winning a £100k marketing campaign. The company now employs 50 people and exports its products to 21 countries.
What A Melon
What A Melon won the Voom Crowdfunder award in 2016 after crowdfunding over £110k and smashing their £32k target. The award earnt them an extra £50,000 and a huge advertising package from JCDecaux that helped raise brand awareness. Wider recognition helped secure orders from big retail buyers and What A Melon's drinks are now stocked in leading stores including Sainsbury's, Waitrose, Ocado, Holland and Barrett and Itsu.
FOR MORE INFORMATION:
Competition details
Businesses can enter Voom Pitch 2018 by submitting their idea at www.virginmediabusiness.co.uk/voom between 7 March and 8 May 2018. Pitches will be open to public voting, with the top 40 pitches from each of the two categories going through to semi-final heats in Manchester. Six finalists will go
on to pitch live to celebrity judges, including Sir Richard Branson, for the chance to win a share of £1m in prizes at the final in May.
Voom Pitch 2018 entry requirements:
You can enter if you're:
- Over 18, and
- Living and working in the UK or Republic of Ireland, and
- Your business employs 250 people or fewer.
About Virgin Media Business
We provide internet, data and telephone services to over 50,000 UK businesses. We also partner with the public sector: with local councils and thousands of schools to improve connectivity in communities and support learning, and with the emergency services to enable them to efficiently perform their life-saving skills.
Virgin Media is a part of Liberty Global, the world's largest international cable company. Together Virgin Media and Liberty Global serve more than 59 million subscribers in more than 30 countries - connecting people to the digital world and enabling them to discover and experience its endless possibilities.
Our dedicated, ultrafast network delivers the fastest widely available broadband speeds to homes and businesses. We're expanding this through Project Lightning – the single biggest private investment in UK internet infrastructure in over a decade – to bring our ultrafast broadband network to more homes and businesses around the UK and Ireland.
For all press enquries, please contact the Virgin Media PR team.
Email us = press@virginmedia.co.uk
Call us - +44 (0)333 000 2900