WINNERS OF UK AND IRELAND'S BIGGEST ENTREPRENEUR COMPETITION CROWNED BY RICHARD BRANSON
Therapy Box and Junior Einsteins crowned Voom champions by Sir Richard Branson with each company taking a share of the £1million prize fund
Winners selected after a gruelling application process and live pitches to Sir Richard Branson, Richard Reed, Susie Ma, Sophie Morgan and Virgin Media Business MD, Peter Kelly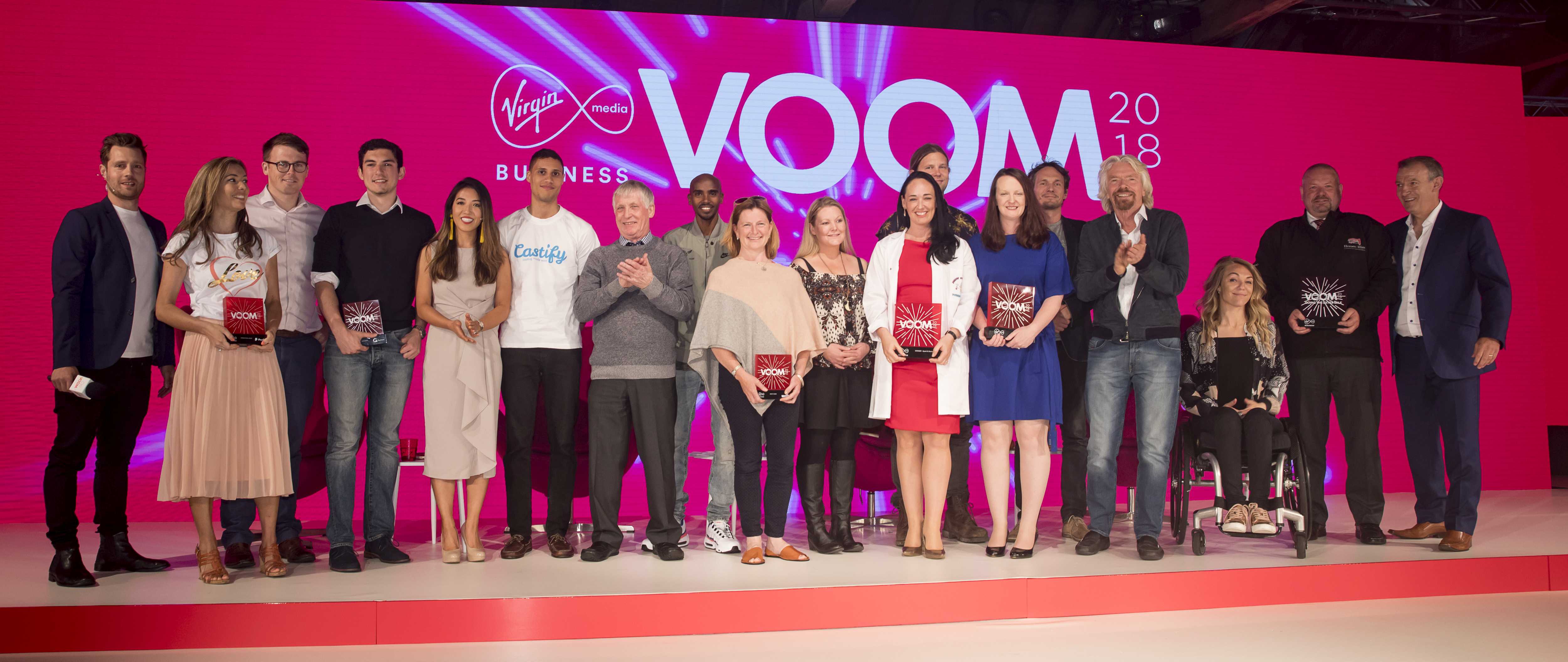 Today, Virgin Founder Sir Richard Branson announced the winners of Voom 2018 – the UK and Ireland's biggest business pitching competition. Each of the two main winners will take home a share of the £1million prize pot including a five figure cash prize, an out-of-home advertising campaign and an extensive package of mentoring and services to help them accelerate and grow their business.
Junior Einsteins, the science club inspiring children through hands on activities, was the winner in the Spark & Start category for startup companies
Therapy Box, a business using AI to diagnose hidden communication disabilities, won the Scale & Grow category for more established small and medium sized businesses
The winners came from the six Voom finalists who pitched their business idea live to a highly experienced panel made up of: Virgin Group founder Sir Richard Branson; the founder of Innocent drinks Richard Reed; serial entrepreneur and TV presenter Sophie Morgan; founder and CEO of Tropic Skincare Susie Ma; and Virgin Media Business' MD Peter Kelly. In a nail-biting final, the judges scrutinised the various pitches and business plans before declaring Junior Einsteins and Therapy Box would walk away with the grand prize.
Peter Kelly, MD at Virgin Media Business said: "Congratulations to today's worthy winners: These dynamic businesses symbolise the vitality and potential of start-ups and small businesses that Voom is helping to unleash. We wish all of our finalists the best of luck for the future."
The Spark & Start category was won by trained scientist and mum of three young children, Tracey-Jane Cassidy, who set up Junior Einsteins after being frustrated that her own children weren't getting enough of an opportunity to do hands-on science. Working to encourage more diversity and interest in STEM subjects, Junior Einsteins arrange after-school clubs, summer camps, birthday parties and events to promote creative thinking, teamwork, imagination and problem-solving abilities.
Therapy box, a London-based SME using machine learning to diagnose, treat and support people with hidden communication disabilities walked away as winners in the Scale & Grow category. Their app listens to children speak and helps identify those who may have hidden disabilities which are holding them back. Speaking at the final, founder Rebecca Bright MBE explained how their apps have already saved the NHS over £6 million.
Sir Richard Branson, Virgin Group Founder, said: "I'm blown away by the quality of the pitches and the incredible passion today's finalists have demonstrated. Congratulations to the fantastic winners and to our runners up who worked extremely hard to get here. I hope they'll go on to inspire others - I'm excited to watch them all continue their business journey."
Four special award winners were also named at the ceremony by Voom partners.
Hookpod, a sustainable fishing hook which reduces the number of turtles and birds accidentally caught by tuna fishing boats, won the The Crowdfunder Award for the business that crowdfunds the most money during Voom, having raised nearly £60,000.
Organic Blooms, the social enterprise that grows and sells organic flowers to train and support people with learning difficulties, won the Impact Award, sponsored by Virgin Unite, for the charity, business, or social enterprise that's making a difference to people in need.
The International Voom Award, sponsored by PayPal, for the business with the biggest international ambitions was won by Milky Tees – a company producing unique breast-feeding T-shirts to help mums breastfeed easily, discreetly and stylishly.
Perlego, the textbook subscription service making academic content more affordable, was announced as the winner of the Leaders with Voom Award, sponsored by Grant Thornton, which will support them with first-stage funding advice.
Since launching six years ago, the competition – run by Virgin Media Business - has awarded over £2 million in prizes and has supported hundreds of businesses including CauliRice, MacRebur, Fourex, Biobean, What a Melon and Approved Foods to go on to great success. Previous winners have benefited from increased public awareness and new connections, partnerships and collaborations they've built through the competition.

About Virgin Media Business
We provide internet, data and telephone services to more than 50,000 UK businesses. We also partner with the public sector: with local councils and thousands of schools to improve connectivity in communities and support learning, and with the emergency services to enable them to perform their life-saving skills efficiently.
Virgin Media is part of Liberty Global, the world's largest international TV and broadband company. Liberty Global connects over 22 million customers through operations in 12 countries across Europe subscribing to more than 46 million TV, broadband internet and telephony services. It also serves over 6 million mobile subscribers and offers WiFi service through 10 million access points across its footprint.
Our dedicated, ultrafast network delivers the fastest widely available broadband speeds to homes and businesses. We're expanding this through Project Lightning – the single biggest private investment in UK internet infrastructure in more than a decade – to bring our ultrafast broadband network to more homes and businesses around the UK and Ireland.
Media contact:
luke.stallard@virginmedia.co.uk
carol.barnes@virginmedia.co.uk
Press office: +44 (0)333 000 2900
For all press enquries, please contact the Virgin Media PR team.
Email us = press@virginmedia.co.uk
Call us - +44 (0)333 000 2900