JUDGES JOINING SIR RICHARD BRANSON FOR VOOM 2018 FINAL REVEALED
Virgin Media Business unveils expert panel that will judge the Voom finals on 23 May 2018
Business leaders will decide which entrepreneurs win a share of £1million in prizes after pitching their big ideas live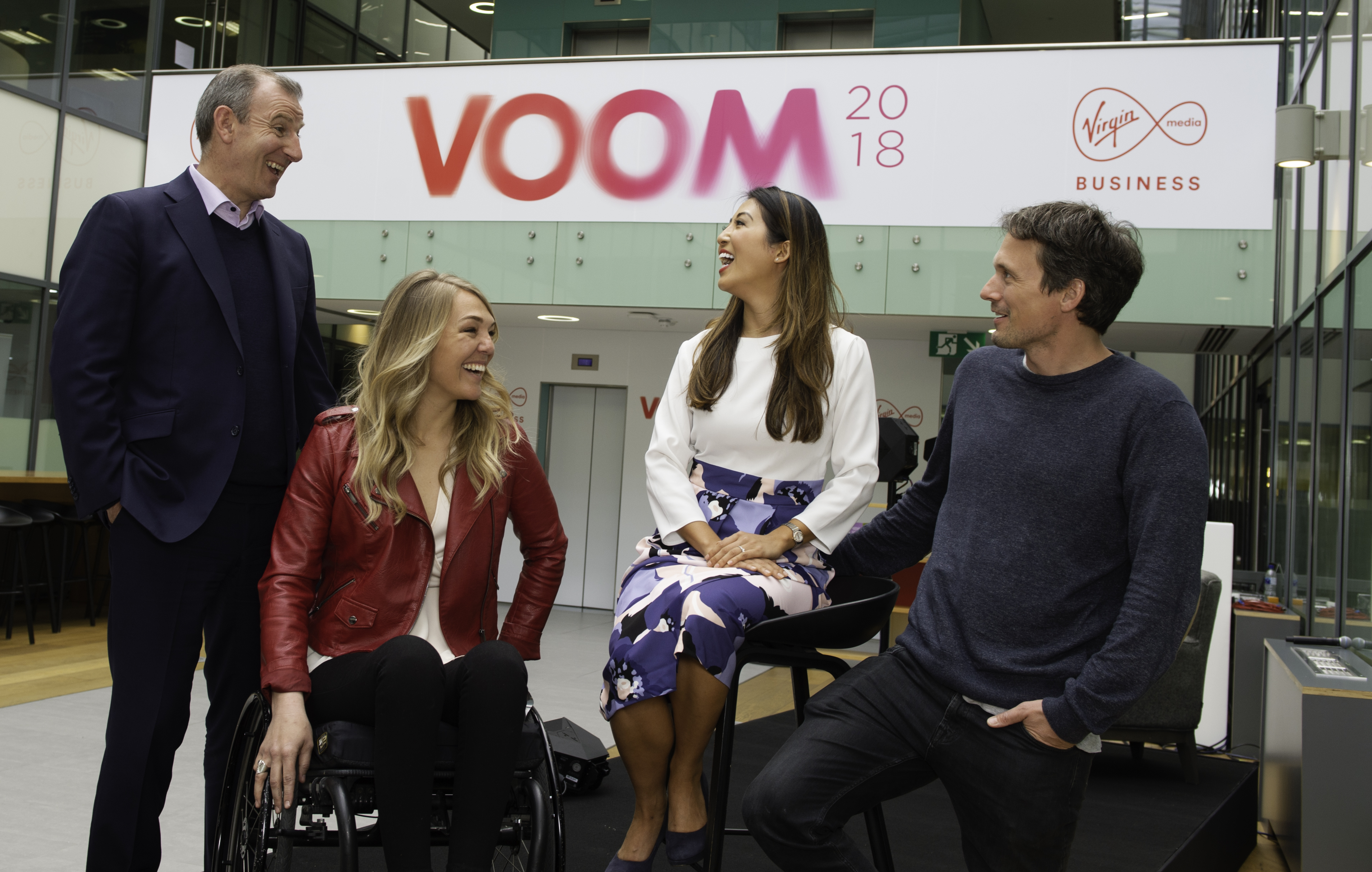 30 April 2018 -- Founder of Innocent drinks Richard Reed, serial entrepreneur and TV presenter Sophie Morgan, 'The Apprentice' finalist and founder of Tropic Skincare Susie Ma, and Virgin Media Business' MD Peter Kelly will join Virgin Founder Richard Branson and bring their business expertise to the Voom 2018 judging panel. Together they will decide which entrepreneurs will win the UK and Ireland's most exciting pitching competition, walking away with a share of £1million in prizes.
Sir Mo Farah, the UK's most successful distance runner ever, Director of Going the Extra Mile at Virgin Media, will also be looking for that business that has 'gone the extra mile' and presenting them with a special award on the day.
The panel was announced at a Virgin Media event in central London where the judges shared their business advice with a live audience. Between them, they bring cross-sector expertise spanning FMCG, telecoms, health and beauty, creative industries and property development.
Virgin Group Founder, Richard Branson said: "We have great team of judges who will help scrutinise business plans and pitches before deciding who will win Voom 2018. The judges know all about the challenges of starting a business – and have the insight needed to spot a great idea and turn it into a business. He added: "It is not too late to enter, I would encourage anyone who has been thinking about entering to grab the opportunity and submit their entry, it may be the best decision they ever made!"
Speaking at the launch event, Susie Ma, founder and CEO of Tropic Skincare, said: "It wasn't long ago that I was looking to grow my business by securing funding, so I know just how challenging it can be. Voom provides invaluable support, advice, connections and of course funding to budding entrepreneurs. I'd recommend that any ambitious business person should look to apply".
Richard Reed, co-founder of Innocent Drinks and Partner at JamJar Investments, commented: "Starting Innocent was the best business decision I ever made, but we could only do it because we met a backer that really believed in us. Voom provides a platform for people to reach their dreams, offering the resources, expertise and exposure that are so vital in making bright ideas into brilliant businesses."
Sophie Morgan, serial entrepreneur and TV presenter who presented Channel 4's Paralympic coverage in 2016, added: "I'm thrilled to be involved in Voom 2018. To make it in business, you need to find your purpose and pursue it relentlessly whatever barriers you may have to overcome. I'm looking to find the next generation of exciting business leaders with the tenacity and vision to think big and take the world by storm".
Experienced Voom judge, Peter Kelly, Managing Director of Virgin Media Business, concluded: "We've pulled together the highest calibre judges to scrutinise the final pitches from the many exciting entries that are pouring in to the competition. Whether an entrant, finalist or winner - we know that being part of the Voom community opens doors for the businesses involved and we encourage both entrepreneurs and more established businesses to take part. With an incredible judging panel in place and high-quality pitches coming through, the final on May 23 is set to be electric"
Budding entrepreneurs and established businesses looking to grow can enter Voom 2018 at www.virginmediabusiness.co.uk/voom until 8 May for the chance to win a share of £1million in prizes. Public voting is now open and you can vote for your favourites online.
Notes to editors
For interviews with the judges, please contact luke.stallard@virginmedia.co.uk
Businesses can enter Voom 2018 by submitting their idea at www.virginmediabusiness.co.uk/voom up until 7pm BST on 8 May 2018. Pitches will be open to public voting, with the top 40 pitches from each of the two categories going through to semi-final heats in Manchester. Six finalists will go on to pitch live to the judges, including Sir Richard Branson, for the chance to win a share of £1m in prizes at the final in May.
Voom 2018 entry requirements:
You can enter if you're:
Over 18, and
Living and working in the UK or Republic of Ireland, and
Your business employs 250 people or fewer.
About Virgin Media Business
We provide internet, data and telephone services to more than 50,000 UK businesses. We also partner with the public sector: with local councils and thousands of schools to improve connectivity in communities and support learning, and with the emergency services to enable them to perform their life-saving skills efficiently.
Virgin Media is part of Liberty Global, the world's largest international TV and broadband company. Liberty Global connects over 22 million customers through operations in 12 countries across Europe subscribing to more than 46 million TV, broadband internet and telephony services. It also serves over 6 million mobile subscribers and offers WiFi service through 10 million access points across its footprint.
Our dedicated, ultrafast network delivers the fastest widely available broadband speeds to homes and businesses. We're expanding this through Project Lightning – the single biggest private investment in UK internet infrastructure in more than a decade – to bring our ultrafast broadband network to more homes and businesses around the UK and Ireland.
Media contact:
luke.stallard@virginmedia.co.uk
carol.barnes@virginmedia.co.uk
Press office: +44 (0)333 000 2900
For all press enquries, please contact the Virgin Media PR team.
Email us = press@virginmedia.co.uk
Call us - +44 (0)333 000 2900