Super hub 2AC/152Mbit broadband guide
A quick guide to your Super Hub 2AC (152Mbit/s business broadband)
Take every available online business advantage, enjoy commercial dealings made quick, slick and wireless, and give your people the best internet access around. With the Super Hub 2ac on your side you can do it all.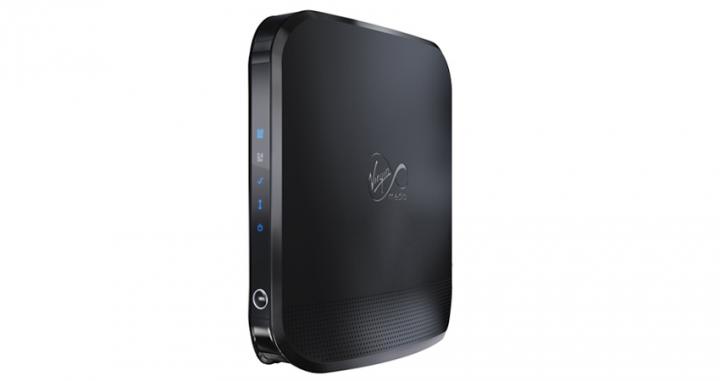 IT Equipment
Cable modem to connect your PCs etc. to the Internet WLAN
Wireless
WLAN supporting dual concurrent band wireless 'n' at 2.4GHz and 5GHz and wireless "ac" at 5GHz
Wired Devices
Gigabit LAN switch
Security
Configurable software firewall for setting filters and controls
Connection
4 port Gigabit Ethernet
If you're new to Virgin Media Business and one of our engineers installed your Super Hub 2ac, then your connection should be up and running.
Setting up your Super Hub 2ac to be in normal operation mode
First, plug in and switch on your Super Hub 2ac.

The WAN light should blink blue, indicating that data traffic is passing through the Super Hub 2ac. The ready light (tick) should be solid blue.
Ports and lights on Super Hub 2ac explained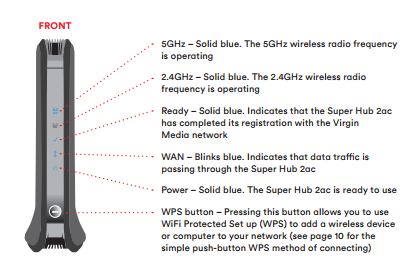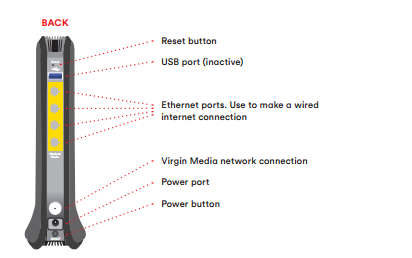 Super Hub 2ac network settings
The sticker on the base of your Super Hub 2ac contains the information you need to make a wireless connection. Here are the key bits explained: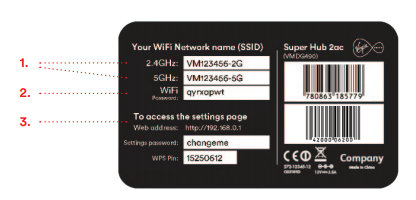 1. WIFI NETWORK NAME (SSID)
This is the network name broadcasted by your Super Hub 2ac. You need to select either 2.4GHz or 5GHz network name (if shown) from your computer or device's wireless manager to connect wirelessly. The Super Hub 2ac has a dual concurrent WiFi feature.

2. WIFI PASSWORD
This is the WiFi Password (or security key) you will be prompted to enter after selecting your WiFi
network name (SSID).

3. SETTINGS PAGE
Enter this web address into your browser to change settings, such as your WiFi network name
or WiFi Password.
More help with Super Hub 2ac