Super hub 2AC - Wireless network settings
To check the device's connection status you'll need to log into the Super Hub 2ac Network Manager then click the Wireless Network Settings button on the left hand side.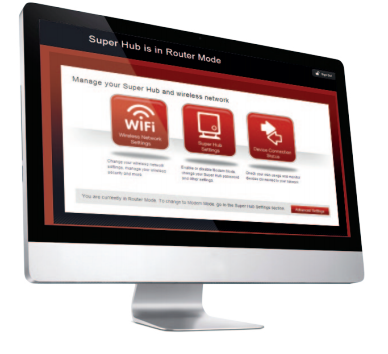 You'll see the following:
Wireless
Select the relevant tick box to Enable / Disable 2.4GHz or 5GHz wireless functionality on your Super Hub 2ac.
Security Mode
We recommend you select the 'WPA Auto' option. This gives you good security and the connection will be supported on most computers and devices.
SSID
This is the Service Set Identified (the name for your wireless network).
Simply leave it as the default, or change the name to something else.
Passphrase
You'll find this on the base of your Super Hub 2ac. Please take a few moments to change your passphrase from the default 8 character one that is shown on your router.
We recommend that you create a strong passphrase, made of at least 12 characters with a mix of upper and lower case letters, numbers and special characters, such as @, #, $.
Channel
Your Super Hub 2ac will automatically scan and set itself to the best available channel – but if you want to you can choose any channel you like. This is handy if there are signal interruptions caused by microwaves, DECT phones or something similar.
Please note: The user experience quality may deteriorate if the number of concurrent WiFi users increases above 20 users.
Configuring Your Wireless
GUEST NETWORKS
On top of standard WLAN SSID you can set up two guest networks per wireless channel (2.4GHz and 5GHz). Just go to advanced settings on the Super Hub 2ac Network Manager and click on the network you wish to amend:
2.4GHz first guest wireless network
2.4GHz second guest wireless network
5GHz first guest wireless network
5.GHz second guest wireless network
Now visitors have access to your network, and the internet, for as long as you need them to.
Don't forget, guest networks use locally administered MAC addresses. This means anyone using a device designed to disable these networks could make your guest network unstable. You can usually set devices so your guest network works properly.