HITRON CGNV4 ROUTER GUIDE
Welcome to your new Hitron Broadband Router from Virgin Media Business
Voom Fibre frees your business from the shackles of compromise, in a new Virgin way. We offer just one speed - the fastest we can on our network. Right up to 500Mbps. So you can unleash your business. And achieve your digital potential. Do more, sell more, be more!
Are you ready to #VOOM?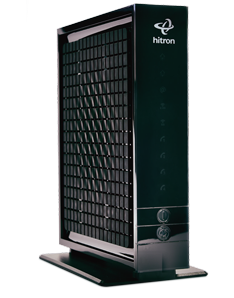 Getting to know your Hitron router
Before you begin, please check your Hitron box came with the following equipment:
12v 2.5 Amp (30W) power adapter for UK mains
RJ45 Ethernet cable (1.8 metres long)
ABOUT YOUR HITRON ROUTER
IT Equipment
Cable modem to connect your devices to the Internet.
Wireless
WLAN supporting dual concurrent band wireless 'n' at 2.4GHz and 5GHz and wireless 'ac' at 5GHz.Both bands use IEEE 802.11n/ac WiFi access and are backward compatible with A/B/G devices.

If you've chosen to take advantage of one of our multi-static IP address options (e.g. 5 or 13 static IP addresses), in addition to the VMB supplied Hitron router, you will require a customer provided router to enable WiFi capability.
Wired Devices
Gigabit LAN switch with 4 Gigabit Ethernet and 4 RJ11 phone line ports

Security
Configurable software firewall for setting filters and controls.
Ports on your Hitron router
2 Port - Hitron CGNV4-BIZ
4 Port - Hitron CGNV4-FX4
More help with Hitron CGNV4
Hitron router help videos
Setting Up Your Hitron Router
General Tips About Your Hitron Router
Talk to someone at Virgin Media Business, report faults or view our online support services.