What is dual concurrent WiFi?
How your router manages the growing demand of day-to-day internet traffic
What is dual concurrent WiFi?
When you're online, your WiFi connection uses radio waves to pass information to and from your computer and wireless devices like tablets and smartphones. Right now, just about all broadband providers use the same radio band, which is 2.4GHz.
2.4GHz is a bit like a busy motorway. With so many people using the same band at the same time, there's lots of congestion so information travels slower. It's also affected by other things like microwaves and DECT phones because they use the same band to function too.
The router lets you connect to a different and less busy band which is 5GHz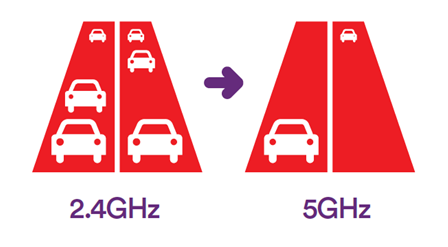 What's the difference between a 2.4GHz and 5GHz signal?
As a general rule, the 5GHz band has a shorter range but is great for demanding activities like downloading large files. The 2.4GHz band is better for long range but is more likely to suffer from interference. An easy way to make sure you're getting the best connection is to check your wireless manager and check the connection strength by the number of bars showing.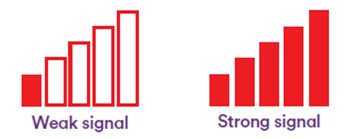 How do I connect to dual concurrent WiFi?
If your device is 5GHz compatible it will automatically pick up both the 2.4GHz and 5GHz WiFi network names (SSID). All you need to do is select the 5GHz SSID for compatible devices and you're away! If your device is not 5GHz compatible you'll only have the option to connect to the 2.4GHz SSID. What's also great is that you can connect multiple devices on both 2.4GHz and 5GHz at the same time, so all your devices can access the best possible WiFi available. To access, you simply click on the WiFi network name (SSID) finishing with '2G' or '5G' in your wireless manager, enter the WiFi password and you're up and running straight away.
If you've chosen to take advantage of one of our multi-static IP address options (e.g. 5 or 13 static IP addresses), in addition to the VMB supplied Hitron router, you will require a customer provided router to enable WiFi capability.
You might also be interested in: