Hitron – Making a Wifi connection
The sticker on the back of your router contains the information you need to make a wireless connection.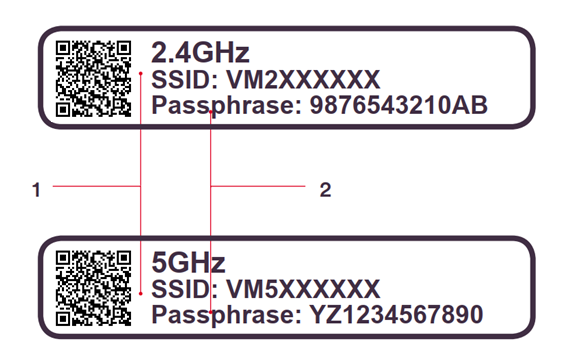 Here are the key bits explained:
1. WIFI NETWORK NAME (SSID)
This is the network name broadcasted by your router. You need to select either 2.4GHz or 5GHz network name (if shown) from your computer or device's wireless manager to connect wirelessly. The Hitron router has a dual concurrent WiFi feature.
2. PASSPHRASE
This is the passphrase (or WiFi password) you will be prompted to enter after selecting your WiFi network name (SSID).
If you've chosen to take advantage of one of our multi-static IP address options (e.g. 5 or 13 static IP addresses), in addition to the VMB supplied Hitron router, you will require a customer provided router to enable WiFi capability