Hitron - Intermittent connectivity & loss of service
Introduction
This guide can help you deal with slow speeds on your Voom Fibre or Ultrafast Business Broadband service using Hitron CGNv4.
Examples of real-life scenarios are used, to help you determine if it's a network or usage issue.
Intermittent connectivity or reliability issues
Your Business Broadband service may experience dropouts in connectivity from time to time. This can be caused by the same usage issues that affect slow speeds or it can be a local network issue. To determine the reason for the issue, a simple ping test can be run using the following steps.
Step 1: Login to the Hitron CGNv4 GUI using the address 192.168.0.1. If this has been changed by one of your users, use the revised address. The following screen should appear: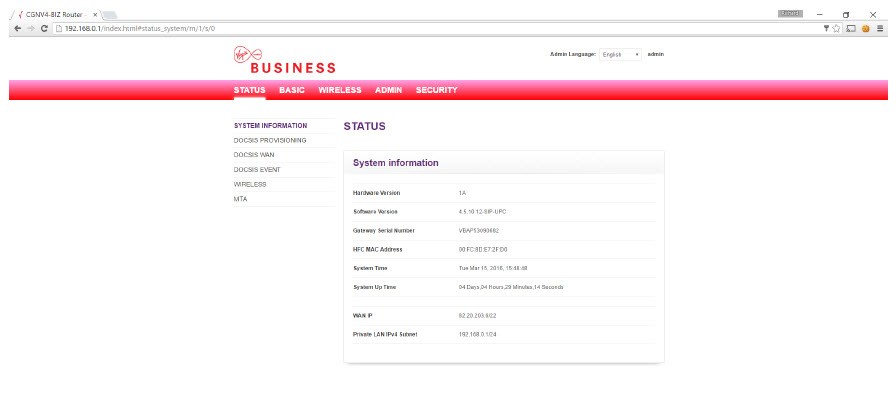 Step 2: Click on the 'Admin' tab, as highlighted in red and then click on Diagnostics in the left hand column highlighted in purple.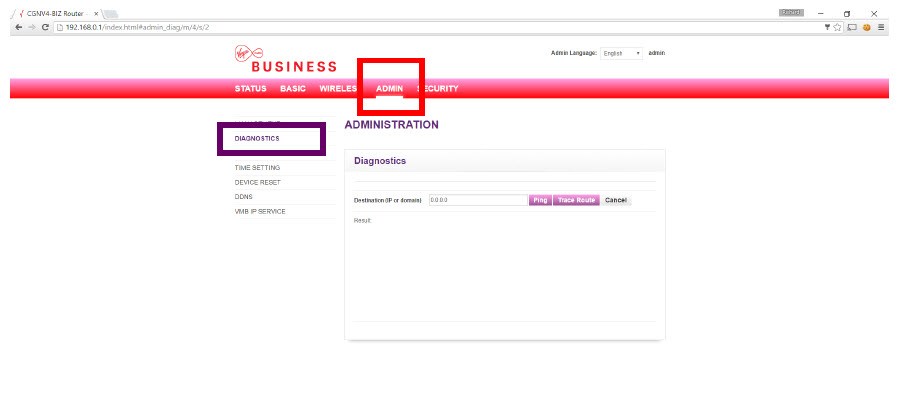 Step 3: Within the 'Destination IP or domain' field, enter the Google DNS IP address 8.8.8.8then select 'Ping'.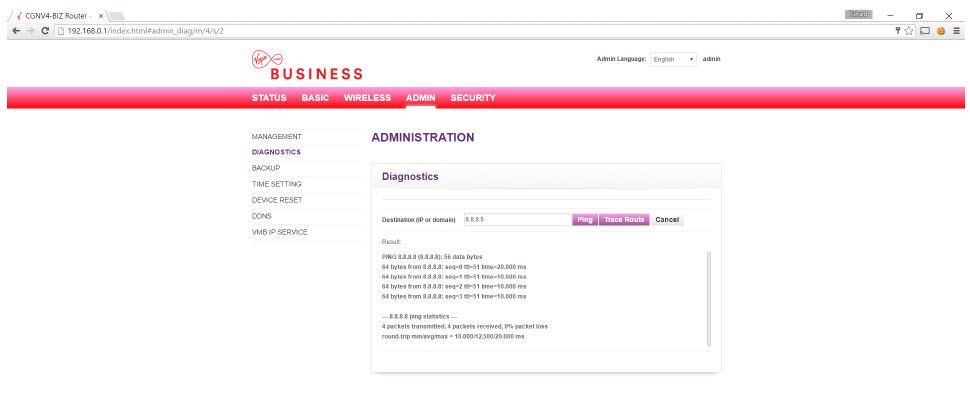 If the Google DNS address CAN be pinged from the GUI but NOT from the laptop or PC, then the problem usually lies in the local LAN configuration, i.e. the device itself.
If the Google DNS address cannot be pinged from the GUI and PC, there may be an issue with the Hitron CGNv4 box or on the Virgin Media network. If so, we recommend restoring the factory settings on the Hitron CGNv4. Once it has been reset, connect the Hitron box directly to your PC or laptop and attempt to access the Hitron GUI page. If it's not possible to connect, it's worth checking your laptop or PC settings. However, if the GUI page can be accessed but the Internet can't, you may need to check your firewall settings.